TEDDY & THE TIGERS / THE TIGERS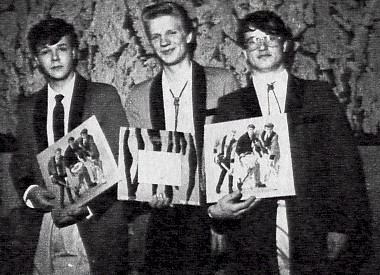 Keravalaisesta Teddy & the Tigersista vaiheista voisi kirjoittaa vaikka kirjan, jätetään se kuitenkin jonkun muun tehtäväksi. Kerrataan tässä vain tärkeimpiä tapahtumia.
Fancy Dan-nimellä perustettu yhtye vaihtoi nimensä tammikuussa 1977, kun manageri Kari Heimonen otti yhtyeen suojiinsa. Uusi nimi Teddy & the Tigers napattiin American Grafitti-elokuvasta.
Ensisingle julkaistiin samoihin aikoihin perustetun tamperelaisen Poko Rekordsin kautta, kuten myös yhtyeen uran muutkin levyt.
Suosionsa huipulla yhtye oli vuodenvaihteessa -78/ -79 toisen pitkäsoittonsa, Burn it up-lp:n aikoihin. Levy myi loistavasti ja Teddy & the Tigers oli selkeästi Suomen suosituin yhtye tuolloin.
Kolmas LP, Rockabilly Rebel, ei vastannut täysin ostavan yleisön odotuksia, mutta riitti pitämään Tigersit yhtyeiden kärkikaartissa.
Kesällä 1980 yhtye veteli jo viimeisiään. Neljäs ja viimeinen LP, White Hot Rock, ei sisältänyt enää rockabillya ja se vei yhtyeen suosiolta pohjan,
vaikka yhtye jatkoi vanhan materiaalin soittamista keikoilla
Hajoamisesta ilmoitettiin lokakuussa 1980 ja yhtye soitti sovitut keikat loppuun kaikessa hiljaisuudessa.



SINGLE- JA EP-LEVYT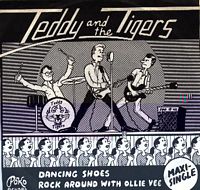 7 "
Dancin' Shoes /
Rock around with Ollie Vee /
Balls
Poko Records 1978 - PS 001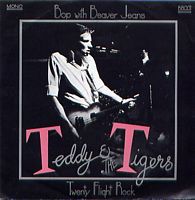 7"
Bop with the Beaver jeans /
Twenty flight rock
Beaver's Productions 1978 BB 001 B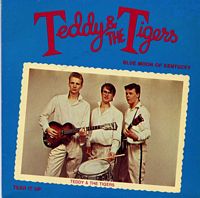 7"
Blue moon of Kentucky /
Tear it Up
Poko Records 1978 - PIS 010 S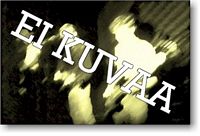 7"
Tiger Twist /
Big brown eyes
Poko Records 1978 RAHIS 024
7"
Tribute to Buddy Holly EP
Tribute to Buddy Holly /
Changing all those changes /
Baby won't you come out tonight /
Learning the game
Poko Records 1979 - HOLLY 021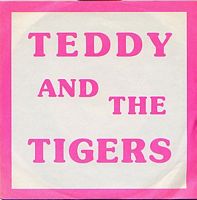 7"
Twixteen /
Fabulous
Poko Records 1979 - PIS 032
THE TIGERS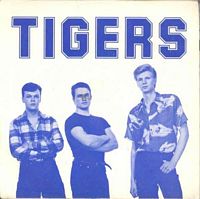 7"
El Diablo /
Tears fell like crystal
Poko Records 1980 - PIS 053
LP-LEVYT
TEDDY & THE TIGERS
Boppin`
Poko records 1978 - PÄLP-1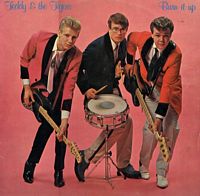 Burn it up
Poko Records 1978 - PÄLP-4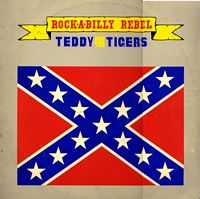 Rock-a-billy rebel
Poko Records 1979 - PÄLP -6
Tiger tracks
K-Tel - NS - 4064
THE TIGERS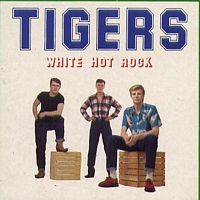 White hot rock
Poko Records 1980 - PÄLP-13